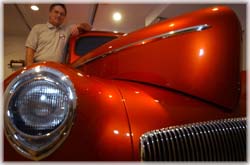 ASBURY, Iowa - In the old rusted shell of a truck, Bill and Sue Keck could see champion lines. After six years of work, the Kecks' vision was rewarded when a panel of judges handed the Asbury couple a prestigious national honor.
Their sleek, shiny street rod, fondly nicknamed "Excessive" earned a berth as a finalist for the Ridler Award at the Detroit Autorama car show, Feb. 27-29. As one of the elite "Great 8," their hot rod was honored as one of the top first-time-shown street rods in the country. It will be featured on the cable television show "Rides" on The Learning Channel at 8 p.m. Tuesday.
Bill Keck has puttered around with cars since he was a child. He and Sue restored their first car, a 1966 Chevelle, some years ago and wanted to try their hand at a second. They bought the shell of a 1941 Willys truck from an East Dubuque, Ill., man in 1997.
"It had no floor, no back end, no fenders or running boards. Oh, and no engine or transmission," said Bill, who had wanted a Willys vehicle since his drag-racing days in the 1960s.
Merle Berg, of St. Donatus, agreed to take on the task of rebuilding the truck body. It took nearly two years, since everything had to be custom designed and built. Parts of the reconstruction or the customizing were done by specialists in Rickardsville, Iowa City, Kieler, Wis., Arkansas, Missouri and New Jersey.
When the truck shell was finished and painted, the Kecks hauled it back to their garage to work on the rest of the project, including installation of the 502-cubic-inch Chevrolet engine. The couple's three sons often dropped by to help.
The result of their labors is a gleaming pearl orange, low-slung street rod. The Kecks were so happy with the results they applied for consideration for the Ridler Award at the Detroit car show. They had to send in background information on their truck and a pile of pictures of its restoration.
Out of hundreds of applicants, only about 40 are chosen for the Ridler competition.
When it came time to choose the Great 8 rods, a panel of 10 judges examined the 40 vehicles carefully. They then headed down the long row of rods.
"I knew something was up as they walked by. They started handing out signs at the far end. I was the last to get one," Bill said.
The sign declared the Kecks' rod to be one of the Great 8. It did not win first place in later judging.
"Excessive" took home several awards from the car show - first place for a custom rod pickup, 1935-47; outstanding custom rod; and outstanding paint job. The Kecks plan to show it in more contests.
"It's not for the money, but for the prestige," Bill said.